The Best Buttermilk Biscuits
Feb 28, 2010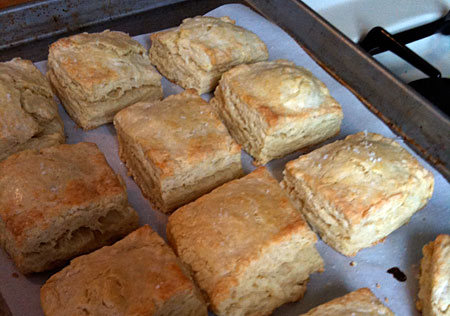 My dear friends Nancy & Bob gave me a copy of Chef Thomas Kellers's Ad Hoc at Home cookbook this past holiday season. This Sunday morning I woke up craving the fabulous looking buttermilk biscuits I had seen while first exploring the book. Much to my sleepy wife's delight, I jumped out of bed early to shop for the few ingredients I didn't already have in the pantry.
Those of you who are familiar with Chef Keller and his cookbooks, The French Laundry Cookbook among others, know that his recipes can be a challenge for the home cook. The whole premise of Ad Hoc at Home and the restaurant it comes from is — I believe — to present food and recipes that are more accessible.
The buttermilk biscuits were very easy to make. As I didn't have the two-inch ring cutter that Keller called for to make rounds I chose instead to cut the dough into squares. I also decided to sprinkle just a bit of Fleur de sel on the tops after brushing them with melted butter, as the recipe called for, as soon as they came out of the oven.
We ate them warm with a little raspberry jam and my wife & I both agreed that they were probably the best biscuits we had ever had. They were soft and just flakey enough, sweet from the butter in the dough with just a hint of tang from the buttermilk.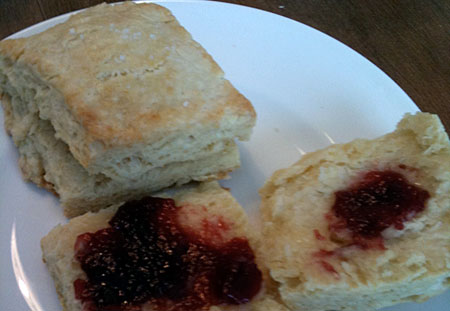 Update: here is the recipe for those who asked
Buttermilk Biscuits
2 cups cake flour
2 cups all-purpose flour
1 tablespoon kosher salt
1 tablespoon baking powder
1 teaspoon baking soda
2 sticks unsalted butter (cut into 1/2 inch cubes)
1 1/2 cups buttermilk
2 tablespoons melted butter
Preheat oven to 425° Line baking sheet with parchment paper
Combine the flours, salt baking powder & soda in a food processor and pulse a few times. Add butter and pulse to make butter pieces fine grained.
Transfer to a large bowl, make a well in the center and add buttermilk. Mix to just combine. On a floured surface pat the dough into a 3/4 think rectangle. Cut into rounds or square, place on parchment covered baking sheet, brush tops with a bit on extra buttermilk.
Bake for 15 - 18 minutes, until golden brown. Remove from oven and immediately brush tops with a bit of melted butter. Sprinkle with a bit of Fluer de sel.